Our Best Restaurants in Bergamo
Roof Garden Restaurant - Bergamo, Piazza della Repubblica 6 - Tel. 035 366159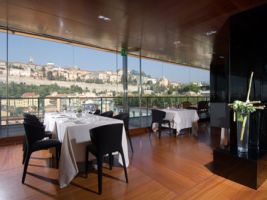 From the eighth floor of the Hotel Excelsior San Marco the view dominates all the city of Bergamo from above and the panorama is really breath-taking!
The chef, Fabrizio Ferrari, honored with a Michelin star, practices cooking that rediscovers traditions and "lost" products which at the same time tries to experiment unusual combinations and modern cooking.
An exceptional place for business lunches, company events, gala dinners and fairy-tale wedding banquets.
Reservations:
http://www.roofgardenrestaurant.it/
Osteria de l'anetì - Bergamo, Via Pinamonte da Brembate 10 - Tel 035 214015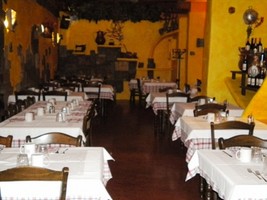 Right by the train station, the Osteria de l'anetì, an eating house with home cooking, is a place where you can savor the most delicious dishes from the Bergamo tradition and have a good glass of wine.
Besides the great attention taken for the meals, the service is warm and informal.
Reservations:
http://www.aneti.it/template.php?pag=38643&tongue=
L'Antica Perosa - Bergamo, Via Betty Ambiveri 35 - Tel 035 311211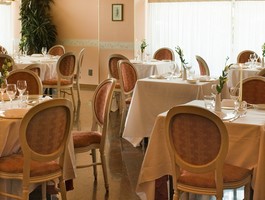 Located in the Starhotels Cristallo Palace, close to the airport and the city center, it proposes a refined, tasty cooking. Besides the dishes of the Bergamo tradition, it offers dishes from international cooking.
Reservations:
http://www.starhotels.com/hotels/cristallo-palace/it/restaurant-bar.aspx








La Delizia Ristorante - Bergamo, Largo Porta Nuova 12c - Tel 035 4130924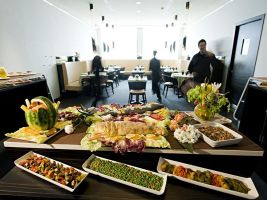 A restaurant situated in the very center of lower Bergamo, operating together with Hotel Arli.
Refined traditional cooking with an excellent wine cellar.
Reservations:
http://www.sensacion.it/it/la_delizia.aspx








Gourmet Ristorante - Città Alta, Via San Vigilio 1 - Tel 035 4373004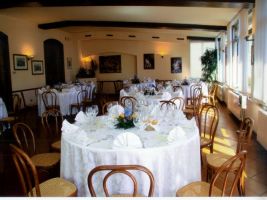 Its enchanting position immersed in the greenery of the Hills of Upper Bergamo, lends it an atmosphere of peace and relaxation. The "Gourmet" Restaurant is essentially made up of three in-door rooms and two external terraces with an arbor, where one can enjoy an admirable panoramic view.
It proposes refined cooking: an ample choice of dishes typical of Bergamo and the Mediterranean area.
Ample private internal parking.
Clients can reach the restaurant by car, even when the High Town is closed to traffic.
Reservations:
http://www.gourmet-bg.com/1/ristorante_65691.html




Ristorante Giordano - Cavernago, Via Giacomo Leopardi 1 - Tel 035 840266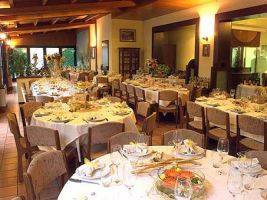 The exclusive Wine Bar with a vast assortment of great national and foreign wines to taste in a worm, cordial, welcoming atmosphere accompanied by different kinds of tasty salami and exquisite cheeses.
The cooking of Ristorante Giordano mirrors the genuine flavors of the renown cooking of Tuscany: "cooked water", tortelli with ricotta, Tuscan soup, boar's meat, and the famous "Florentine steak", the real specialty of Ristorante Giordani, cooked strictly with "Chianina" beef, are only some of the typical dishes of Tuscany cooking that this elegant restaurant offers.
The Ristorante Giordano also offers refined courses of fish.
Reservations:
http://www.hotelgiordano.it/it/ristorante_giordano_bergamo.html








The Consortium Cooking Lessons
Associazione Cordon Bleu - Bergamo, Via dei Cappuccini 13 - Tel. 035 3591011
For more than thirty years this school of culinary art has organized cooking lessons at various levels: from mono-themed courses to basic ones and fine food.
More information:
http://www.associazionecordonbleu.it/?page_id=221